Technical Marketing
A message from CAZITech marketing strategist Wayne Caswell:<![if !vml]>

<![endif]>
TEST... After retiring from IBM, I started CAZITech Consulting to pursue a personal vision and offer management consulting and strategic marketing services to companies in the converging industries of broadband, wireless, home, and community networking, as well as consumer electronics, personal computing, and home & building automation. My clients ranged from small technology startups to large, multinational product manufacturers, service providers, and industry associations; and my services included strategic planning, market research, competitive analysis, business development, evangelism, and communication. (See About and Market Segments for more information.)
UPDATE: Since life as an independent consultant is too lonely and unstable for my taste, I started a new career on 7/31/2006 with Dell Product Marketing as a Messaging Manager for the Dimension (consumer desktop PC) line of business. That role offers lots of new opportunities but will give me less time as a consumer advocate for municipal networks and Big Broadband. I will also be giving up my volunteer position on the FCC's Consumer Advisory Committee and my digital home consulting business, CAZITech.
You can still be able to reach me with my old contact information, and I occasionally update parts of this site, but with my new career comes a new focus, although still serving the Digital Home.
---
IEEE Consultants Network, September 2008: Speaker
"BIG Broadband and Gigabit-to-the-Home" Understand the application possibilities from the pending bandwidth Exaflood, which is enabled by Fiber-to-the-Home and Gigabit speeds (BIG Broadband). With a Gigabit objective, Wayne Caswell discusses bandwidth deployment obstacles and status and Internet issues facing the next administration. (download handouts)
---
IEEE Consultants Network, April 2008: Speaker
"Beyond the PC – with implications for job seekers." With a historical look at the past 30 years of personal computing, and a futurist's look at the next 30, Wayne Caswell applies different perspectives in a talk that will be thought provoking, controversial, and filled with outlandish predictions that will likely be proven way too conservative. (download speaker notes and handouts)
---
Featured White Paper (and companion presentation):
"BIG BROADBAND: Public Infrastructure or Private Monopolies," by Wayne Caswell (and its companion presentation, "Fiber, Wireless and Bandwidth for TeleWork"), was presented during the Austin InnoTech Conference and Expo to introduce the concept of public broadband and show how bandwidth encourages innovation and enables TeleWork, TeleMedicine and Distance Learning.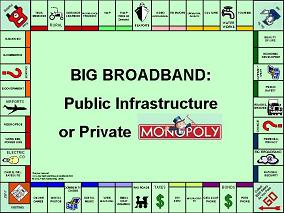 ---
Featured Market Research:
Home Systems: Home Controls - Seventh Edition, written in conjunction with Parks Associates and published in September 2004, examines new developments in lighting, HVAC, security, entertainment, and appliances to conclude that "the home controls industry is poised to cross a 30-year-old chasm separating high-end new homes from much bigger opportunities in mainstream retrofit markets."
The professional installation required of proprietary technologies and structured wiring have limited most home control opportunities to high-end new homes, a market representing less than one-tenth of one percent of U.S. households per year. Similarly, products based on X-10 technologies are unable to scale up-market to support more than 256 devices with fast and reliable response.
But traditional applications and market segments are blending together because of digital convergence and disruptive technologies. For example, new powerline and wireless standards simplify installation and can be applied across market segments – from small homes to large commercial office buildings. These standards will be disruptive forces in the home controls industry, especially because some of them have the capacity to carry not just control signals but also data, streaming entertainment, and phone calls, thus making it much easier to integrate different applications.
If you purchase a copy of this report, please mention CAZITech to trigger a commission.
---
IEEE Presentation from 1/18/2006:
Home & Building Automation & Control (1/4-size presentation slides) was presented to the local Austin chapter of the IEEE and includes information from the above Parks Associates report.
---
About Our Screen Background: In case you're wondering about the overlapping colored circles, think of them as separate wireless networks that can interfere with each other, representing just some of today's networking challenges. TEST